The Peru Central School District Board of Education invites you to apply for the position of Superintendent of Schools.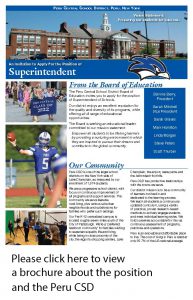 Deadline to apply: February 18, 2022
Download the application form: Peru CSD Superintendent Search fill-in application form  2022
Our district enjoys an excellent reputation for the quality and diversity of its programs, while offering a full range of educational
opportunities.
The Board is seeking an educational leader committed to our mission statement:
Empower all students to be lifelong learners
by providing a nurturing environment in which
they are inspired to pursue their dreams and
contribute to the global community.
Bonnie Berry, President
Sarah Mitchell, Vice President
Sarah Graves, Mark Hamilton, Linda Morgan, Steve Peters, Scott Thurber
Our Community:
Peru CSD is one of the larger school districts on the New York side of Lake Champlain, as measured by our
enrollment of 1,874 students.
We are a progressive school district, with focus on continuous improvement of all programs and support services. The community we serve features rural living, plus various suburban neighborhoods and subdivisions for families who prefer such settings.
Our Pre K-12 centralized campus is located roughly seven miles south of the City of Plattsburgh. We're a 'preferred bedroom community' for families wishing to experience quality life and living, while being in close proximity of the city, the region's shopping centers, Lake Champlain, the airport, state parks and the Adirondack foothills.
Peru CSD has productive relationships with the towns we serve.
Our district mission is to be a community of learners involved in and dedicated to the learning process. We teach all students a continuously updated curriculum, using a variety of practical, proven research-based methods to actively engage students and meet individual learning styles. We hold ourselves accountable for this via continuous assessment of programs, practices and operations.
Peru is an enjoyable and affordable place to live. The cost of living in Peru is rated at only 85.7% of the US national average.
The Position:
The Board of Education plans to offer a salary in the range of $140,000 – $175,000, based on experience and training, with a competitive benefits package. The successful candidate will be offered a three-year contract with an annual performance review.
Candidate Profile:

District Profile:

The Peru Central School District seeks a collaborative leader who can engage the school community in focusing on continuous improvement of the district.
The Board and the Community are seeking a person who:

is an effective communicator
is personable and approachable
exhibits stability and integrity under pressure
is familiar with NYS curriculum and the importance of staff development
has familiarized themselves with the district
knows NYS Education Law and Commissioner's Regulations
is an experienced educator
is active in school improvement activities at multiple levels
was raised or has work experience in a community similar to ours
has extensive administrative experience in a school district
has experience with contract negotiations
is experienced in school finance and business management

District Enrollment: 1,874

Building Enrollment:

Elementary School (PreK-5): 890
Secondary School (6-12): 984

Average class sizes: grades Pre-K to 2 – 18 students;
Grades 3 to 5 – 21 students; 6 to 8 – 22 students; 9 to 12 – 21 students; overall average class size is 21 students.
The 2021-22 budget is $49,982,897. The budget, annually voted on in May, is 53% state aid and the local share is $18,457,313. Our tax base is $967,727,273.
The District's management team consists of the seven-member Board of Education, Superintendent of Schools, Assistant Superintendent for Educational Services, School Business Administrator, Director of Student Services, High School Principal & High School Associate Principal, Middle School Principal & Middle School Associate Principal, Elementary School Principals (Pre K-2 & 3-5), Athletic Coordinator, Director of Facilities, School Food Service Director, Transportation Supervisor, and Technology Integrationist
Peru offers AP courses in US History, English Literature, Calculus A/B, US Government, European History, Computer Science, Biology, 2D and 3D Visual Arts and Microeconomics. There are also 20 dual-enrollment courses available through Clinton Community College in Plattsburgh.