Welcome to Peru Intermediate School!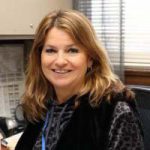 Hello Peru Intermediate! I am honored to have been hired recently to act as the Interim Intermediate Principal for the remainder of the 2019-20 school year. I am a long time North Country educator with 33 years experience in local schools. I am very excited to be able to spend the next few months with all of you and look forward to getting to know the students, staff, family and community members in Peru. I am very passionate about educating and advocating for children by utilizing our resources to provide support for the whole child; socially, emotionally, academically and culturally. Students need to feel safe, supported and cared to for to learn optimally, and that is what we will strive for, every day.
I am looking forward to a highly successful rest of the school year and look forward to meeting you!
Contact Information
Email: Gmason@perucsd.org
Phone: 518-643-6200
---
Intermediate Building 2019-2020 School Year Publications