Blue

 Goes 

Green

!!!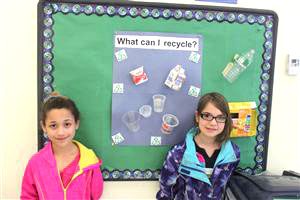 Peru's Green Team has been actively working to make positive environmental changes while educating our students about the role that they play in protecting our earth and its resources. We currently have several recycling initiatives in progress.
The Green Team will be posting information about our initiatives on the Peru School website. Collective efforts do make a difference and we look forward to working with our students, faculty and community to "green up" Peru!!
Earth Day!!!
Preparations for Earth Day
Earth Day is coming up on Monday, April 22. Please share the videos below with your students and help support positive change for our school, community and global environment.
Earth Day Videos To Share With Everyone!!!
What is Earth Day? The History

Earth day 2015 Pick Up Litter

Zero-Sort® Recycling


10 min video (good for HS)
Casella's Zero-Sort® Recycling Facility Tour


Quick 3 min video on how Single-Stream works.
Zero-Sort Recycling! From Casella Recycling


6 Min video that's great for Elementary students
Single-Stream Recycling

Peru has been utilizing Single-Stream Recycling bins this year with EXTREME results. Our students have been doing so well that our waste management service is now coming TWICE A WEEK to empty the bins!!!
PLEASE CLICK HERE TO VIEW MORE SINGLE STREAM INFO FROM CASELLA

What We Recycle
Recyclable – Zero Sort Containers
Plastics 1-7 (Emptied but DO NOT have to be rinsed) i.e. disposable cups, yogurt containers, Lunchable trays, cookie trays, most rigid plastic packaging materials, coffee cup lids, fruit cups
Milk cartons (Emptied but NOT rinsed, no straws)
All papers, magazines, books, paper cups, cardboard, boxboard, all envelopes
Metals, aluminum foil
Glass – all colors
Non-recyclable
Styrofoam
Plastic bags, bubble wrap
Food products
Plastic utensils, straws
Clothing
Initiatives
Maximizing the classroom and cafeteria recycling – single stream recycling has allowed us to significantly increase our recycling. Casella Waste Management generously donated recycling bins to all of the classrooms and they also met with our team to provide us with information to meet our recycling goals. Our cafeteria recycling bins are filling faster than ever, needing to be emptied several times over the course of a school day. Our students have been motivated to "do their part" and our efforts will only continue to improve!
Terra Cycle – this is a national program that collects previously non-recyclable, or hard to recycle, waste. Peru is currently collecting juice pouches, Elmer's glue sticks and bottles. Since participating in the program, Peru has earned over $1,300. Please feel free to send your juice bags and Elmer's glue in with your student!
We are also recycling toner and print cartridges along with both disposable and rechargeable batteries.
In addition to our recycling, Mr. Badger, K-6 Art Teacher, has been teaching his students about "Upcycling" the art of using unwanted items by converting them into something better. Projects have been creative, inexpensive and earth-friendly!
Links
Green Schools Initiative


A great resource to make change in our schools and environment.
Youth Climate Action Network


A great model to lead the charge in real and sustainable change.
Waste Free Lunches


Here are some great suggestions on how to pack lunches that don't end up in the landfill.
Terracycle Info


Terracycle collects and recycles many different items and gives back to our school. The more we recycle, the more funding we get to do more recycling. A "recycling cycle".
Department of Environmental Conservation


A great resource for resources on protecting our natural resources.
Single-Stream Website


Learn about the Single-Stream recycling process.
School Garden Composter
Planting a community effort

 
Student-run Peru Elementary Garden promotes sustainability, teamwork.