Welcome to your Peru Middle and High School PSET page!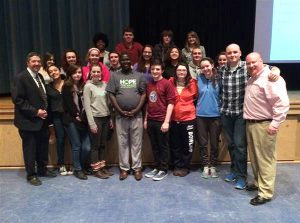 Below you will find descriptions of the various ways you can become involved with this amazingly empowering school-wide program. You can regularly check in to see what we are up to, including dates and times of our upcoming events and meetings, by viewing the calendar provided below.
Come be a part of a great team and represent the PSET initiative as an "ambassador of positivity"!
Positive School Environment Team (PSET)
PSET is a student-driven, advisor-guided, program created to promote a positive, accepting, and empowering school culture that supports belonging and connectedness among the student population. Students from grades 7-12 engage in activities and initiatives that reflect their assignment as "ambassadors of positivity". Some of the activities members of PSET have recently initiated include, Leaves of Thanks (displayed in the Middle and High School lobbies), Together We Are A Masterpiece (a hand arrangement displayed in the Middle School lobby), Unity Day (students wore orange to support anti-bullying), and our First Annual PSET Elfie Selfie (Students from grades 7-12 had their pictures taken with festive, silly props). There are additional scheduled events throughout the year, as well as opportunities for students to be encouraging to their peers, promoting school connectedness and a positive school culture. The slogan, "Be a positive solution for positive change". All students are welcome to participate as PSET ambassadors!
Peer Empowerment Program
The Positive School Environment Team (PSET) is very excited to embark on the implementation of a new Peer Empowerment Program for 7th and 8th grade students facilitated by 10th, 11th, and 12th graders from our Senior High School. The bi-weekly workshops in the Peer Empowerment Program focus on personal empowerment, character and asset building, and the enhancement of a positive and accepting school culture. Peer Leaders have participated in several training sessions to prepare them for their role as co-facilitators. The Peer Empowerment Program is slated to begin the first week of December and continue throughout the school year. Peer Leaders also receive Leadership Credit for their time and service. This credit is reflected on their transcript upon completion of the Peer Empowerment Program.
Faculty and Staff PSET
Faculty and Staff meet to explore ideas for promoting an encouraging and supportive professional culture, which positively enhances the overall teaching and learning experience. The most recent event supported by the Faculty and Staff PSET Team, the revival of the "Christmas Tea" tradition. Additional ideas discussed include opportunities for professional development and activities to celebrate colleague success. All faculty and staff are welcome to become active members of this wonderfully dynamic and enthusiastic team!
PSET Advisors: Tom Bull, Bernadette Nolan, and Melissa Barcomb 

---
PSET Activity Calendar
Please click here to view the Activity Calendar for PSET.

---
Videos
Click on the video you would like to view (links will open in new tabs).
The Science of Happiness – An Experiment in Gratitude


White Out Day Video


Cross The Line Video


A Simple Act video


Life Vest video