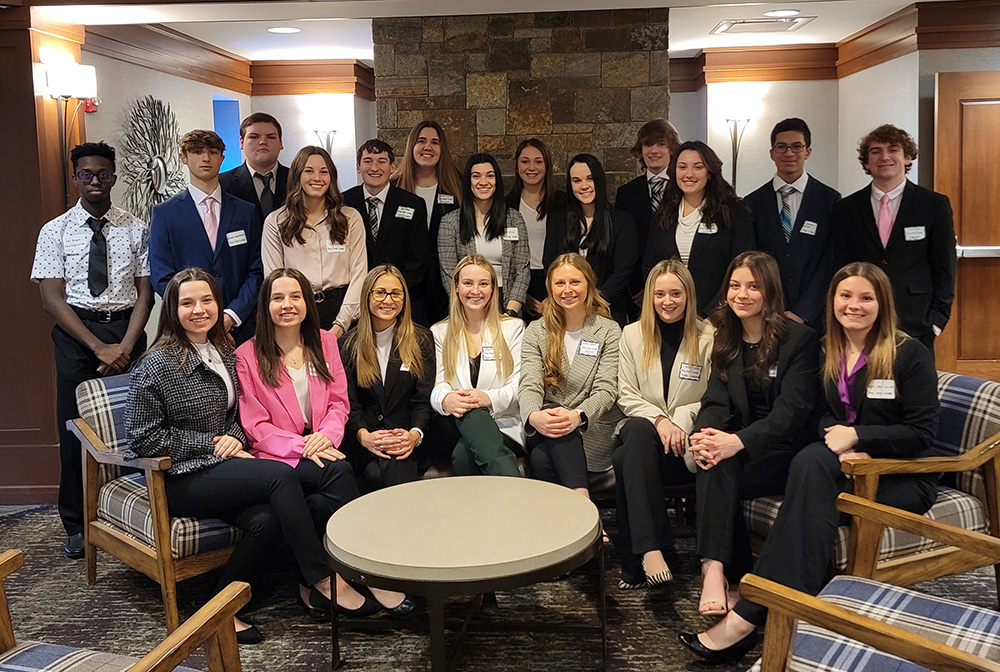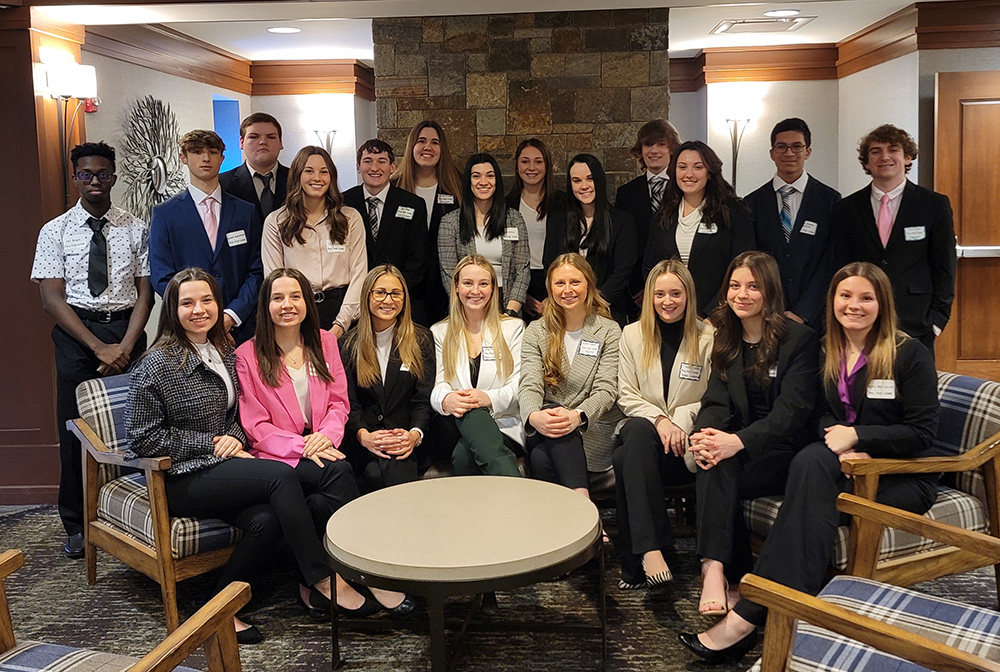 On October 25, 2022, our Future Business Leaders of America (FBLA) officers from Peru Jr./Sr. High School attended the Fall District Conference at the Holiday Inn in Lake George, NY. As well as, February 7, 2023, they competed in several courses at regionals with our students taking top placements. 
On October 25, 2023, students were able to participate in three networking workshops with schools from Lake George, Greenwich and Queensbury. The highlight of the day was the keynote speakers Mike and Haley Gerarde. Haley Gerarde is the founder of Jenny Jo's smoothie truck, and Mike Gerarde is founder of PSG Golf. The Holiday Inn setting made students feel so official as business leaders and they certainly dressed the part.  
Haley Gerarde explained her journey about owning a business and how she got to where she is today. Such as working at a school in California to owning her own smoothie truck business. She talked about what it means to be successful and how it can mean something different for everyone. Also inspiring us to go after whatever we want, will get you that success. She shared many encouraging words and provided the students with understanding of what life is like owning a business. Mike Gerarde explained his story of going from working in HR/Payroll in his family business to following his desires and operating a golf business. Mike also explained the worth in finding what drives passion and brings happiness and bringing in success in all forms.  
In addition, FBLA students participated in three workshops. Those workshops included FBLA-101, Dressing for Success, & Social Media and Promotion. These workshops helped prepare our students for the upcoming regional competition event. 
February 7, 2023 our FBLA students results are as follows: 
1st Place Job Interview – Jack Webb

 

1st Place Intro to Public Speaking – Aden Rentas-Pantaleon

 

1st Place Public Speaking – Cayden Carpenter

 

1st Place Impromptu Speaking – Gavin Mero

 

2nd Pace Accounting – Cayden Carpenter

 

3rd Place Client Services – Libbie Billington

 

3rd Place Personal Finance – Cayden Carpenter

 

4th Place Accounting – Emma St. Denis

 

5th Place Business Law – Haley-Ann Lozier

5th Place Marketing – Quin Crippen

 

5th Place Personal Finance – Gavin Mero

 
This was an experience of a lifetime! Thank you to Ms. Lash & Ms. Avanzato for guiding our students in this wonderful journey with FBLA.